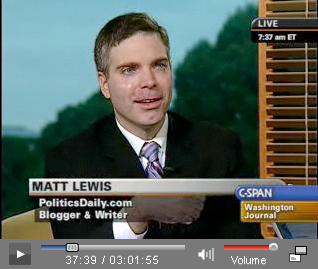 I've enjoyed his Washington DC reporting and commentary for a long time and last night finally had the opportunity to welcome Matt Lewis of Politics Daily to Pundit Review Radio.
Matt attended CPAC and I wanted to get his impressions of the event, from the speakers to the topics to the energy and optimism of the attendees. We took calls, including one from Boston Maggie about Admiral Lippold, who might be running against Harry Reid in NV. Go figure, a Navy question from Maggie!
One of the things Matt wrote about and we discussed was the sense that the GOP has entered a new era. Nothing exhibited that more than this clip, of homophobe fool Ryan Sorba getting a reception he so richly deserved,
The Pundit Review Radio Podcast RSS feed can be found here.
What is Pundit Review Radio?
On Boston's Talk Station WRKO since 2005, Pundit Review Radio is where the old media meets the new. Each week we give voice to the work of the most influential leaders in the new media/citizen journalist revolution. Called "groundbreaking" by Talkers Magazine, this unique show brings the best of the blogs to the radio every Sunday evening from 6-8pm on AM680 WRKO, Boston's Talk Station.